PHUKET THE SOUTHERN PARADISE
Phuket is a charming island in Southern Thailand that is well-known for its gorgeous beaches, beautiful oceans, and exciting nightlife. Millions of tourists travel to the island every year to take in its natural beauty and diverse cultural legacy.
For many visitors, Phuket's beaches are the main draw. There is a beach for every kind of traveler, from the crowded Patong Beach to the tranquil Mai Khao Beach. Swim in the warm waters, enjoy a range of water activities including snorkeling, diving, and jet skiing, and unwind on the soft sand.
Several spectacular natural treasures, including the well-known Phang Nga Bay, can be found in Phuket. The bay is a well-liked location for boat cruises and kayaking because of its limestone cliffs, azure waters, and remote islets. The Big Buddha, a gigantic monument perched atop a hill and providing a breathtaking panorama of the island, is another natural wonder in Phuket.
Phuket is renowned for its exciting nightlife in addition to its stunning natural surroundings. There are plenty of places to have fun, from the renowned Bangla Road in Patong to the hip bars and clubs in Kata. Live music, dance performances, and a range of international foods are available to visitors.
-: SIGHTSEEINGS OF PHUKET :-
CORAL ISLAND
Coral Island, also known as Koh Hae, is a small but beautiful island located off the coast of Phuket, Thailand. The island is known for its stunning beaches, crystal-clear waters, and vibrant marine life, making it a popular destination for snorkeling and diving enthusiasts. Visitors can also enjoy a variety of water sports, such as banana boating, jet skiing, and parasailing. Coral Island is easily accessible by speedboat or longtail boat from Phuket, and visitors can spend the day lounging on the beach, exploring the island's nature trails, or enjoying a delicious seafood lunch at one of the island's restaurants.
PHI PHI ISLANDS
The Phi Phi Islands, located in the Andaman Sea of Thailand, are a stunning archipelago consisting of six islands, with the two largest being Phi Phi Don and Phi Phi Leh. The islands are famous for their turquoise waters, white sandy beaches, and towering limestone cliffs that offer breathtaking views. Visitors can enjoy a variety of activities, such as snorkeling, diving, kayaking, and rock climbing. Phi Phi Leh is particularly famous for Maya Bay, which was made famous by the movie "The Beach." Visitors can take a longtail boat or speedboat tour to explore the islands and experience the natural beauty of this stunning destination.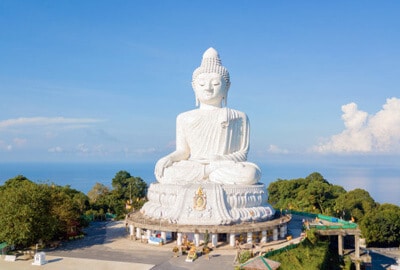 BIG BUDDHA
The Big Buddha, also known as the Phra Puttamingmongkol Akenakkiri Buddha, is a giant statue located on top of a hill in Phuket, Thailand. The statue is made of white Burmese marble and stands at 45 meters tall, making it one of the largest Buddha statues in Thailand. Visitors can reach the Big Buddha by climbing a steep staircase, and once at the top, they are rewarded with panoramic views of the island. The statue is a symbol of peace and offers visitors a chance to reflect and pay respect to the Buddha. The Big Buddha is a must-visit destination for anyone traveling to Phuket.
SIAM NIRAMIT PHUKET
Siam Niramit Phuket is a world-class cultural show that offers visitors a chance to experience the rich heritage of Thailand through an immersive theatrical performance. The show features over 100 performers dressed in traditional costumes, performing dances and acrobatics against a stunning backdrop of ancient temples and palaces. The show highlights the country's history, culture, and beliefs through three acts, covering various themes such as Thai mythology, rural life, and the Buddhist religion. In addition to the show, visitors can also enjoy pre-show attractions such as traditional Thai village life and elephant rides. Siam Niramit Phuket is a must-see destination for those interested in experiencing the rich cultural heritage of Thailand.
LAEM PHROMTHEP
Laem Promthep, located at the southernmost point of Phuket, Thailand, is a scenic viewpoint that offers visitors a breathtaking view of the Andaman Sea. The area is known for its stunning sunsets, and visitors can watch the sun dip below the horizon from the viewpoint's high vantage point. Laem Promthep is surrounded by natural beauty, including rocky cliffs, lush greenery, and the turquoise waters of the sea. The area is also home to a shrine dedicated to Brahma, a Hindu deity, where visitors can pay their respects and make offerings. Laem Promthep is a must-visit destination for anyone looking to experience the natural beauty and spiritual significance of Phuket.
PHUKET FANTASEA
Phuket Fantasea is the island's biggest show. With trapeze artists, a cast of hundreds, performing elephants and other animals and an exotic storyline that blends tradition with fantasy you'll have a wonderful evening out here. But the extravaganza doesn't stop there as FantaSea also hosts one of the biggest buffets in Asia and is set in a theme park that offers carnival-like games, lots of shopping opportunities, a Palace of the Elephants, a Similan Adventure Centre and several other food outlets. It's spectacular, it's extravagent, it's impressive and great entertainment value for all.
JAMES BOND ISLAND
James Bond Island, also known as Khao Phing Kan, is a small, rocky island in Thailand located in the Phang Nga Bay. The island gained its nickname from its appearance in the 1974 James Bond movie, "The Man with the Golden Gun."The island features a tall limestone rock, called Ko Ta Pu or Nail Island, that juts out of the emerald-green water, surrounded by other smaller islets and rocky formations. The striking beauty of the island and the surrounding area has made it a popular tourist destination.Visitors can take boat tours to James Bond Island, explore the caves and lagoons in the area, and enjoy the stunning scenery. The island and its surroundings are part of Ao Phang Nga National Park, which is known for its diverse marine life, mangrove forests, and limestone cliffs.While the island has become a popular tourist spot, it remains a natural wonder that attracts visitors from all over the world.
PHUKET WALKING STREET
Phuket Walking Street is a vibrant night market located in the heart of the historic Old Phuket Town in Phuket, Thailand. The market takes place every Sunday from 4 pm to 10 pm and attracts both locals and tourists.The market offers a wide variety of street food, local delicacies, souvenirs, handicrafts, clothing, and accessories. Visitors can also enjoy live performances by local artists, including music, dance, and cultural shows.Phuket Walking Street is a great place to experience the local culture and sample the delicious food. The market is bustling with energy and offers a unique shopping and dining experience that is not to be missed.
SIMON CABARET
Walking into the Simon Cabaret show theatre in Patong is just like entering a movie house. There's the same Kenny G saxophone music, the same plush seats and the same dimmed lights. It's only when a basso profundo voice announces the show and the curtain rises on live performers glistening with sequins and shimmering with feathers that things are different. Yes, this is real live showtime and the flash and flesh are pure Vegas except for one thing – the 'girls' on stage are actually men. Since 1991 Simon Cabaret has been entertaining visitors with its mélange of camp, glitter and cornball and it still is one of the island's biggest draws.
SURIN BEACH
Naturally beautiful Surin is known as 'Millionaire's Row' due to the top-end celebrity haunts amongst the luxury resorts there, including Amanpuri, Twinpalms and The Surin. They stand alongside the US$ 1 million+ houses that dominate the prime spots on top of the hills overlooking the Andaman Sea.Although popular with tourists, it's not a busy resort town and is more like a coastal village. Fine white sand and turquoise water has ensured that the picturesque beach is very popular with tourists and Thais alike. The whole area is awash with high-end hotels and housing which, in turn, has created opportunities for high-end restaurants and wine bars.
HAT BANG THAO
Beautiful 8km-long Hat Bang Thao is one of the longest beaches on Phuket located in CherngTalay neighborhood. Taking up a huge area in the middle of Bangtao beach, Laguna Phuket, one of Asia's largest resort complexes. This dreamy slice of snow-white sand mixes midrange bungalows (at the south end), luxury resorts (in the middle) and not much else (north end). The northern tip of the beach, so far untouched by development, is still an area where visitors might find that they have the beach to themselves&It's just asking for you to laze around on it and do nothing.
PHUKET GIBBON REHABILITATION PROJECT
Financed by donations (US$70 cares for a gibbon for a year), this tiny sanctuary adopts gibbons that were kept in captivity in the hope of reintroducing them to the wild. The centre has volunteer opportunities that include providing educational information to visitors, cleaning cages, feeding and tracking released gibbons. Swing by around 9am to hear the gibbons' morning song.
SIRINAT NATIONAL PARK
Comprising the exceptional beaches of Nai Thon, Nai Yang and Mai Khao, as well as the former Nai Yang National Park and Mai Khao wildlife reserve, Sirinat National Park encompasses 22 sq km of coastal land, plus 68 sq km of sea, stretching from just beyond the northern end of Ao Bang Thao to the northernmost tip of the island. Park headquarters is at the northern end of Hat Nai Yang. This is one of the sweetest slices of the island.
THAI BOXING IN PHUKET
One of the most popular spectator sports in Thailand, and now gaining world renown, is the martial art of Muay Thai. Exciting enough on TV - the furious punches, crushing elbow strikes, lethal kicks and artful feints are even more riveting when seen live.For tourists in the Patong Beach area, nightly displays of Thai Boxing are carried out in specially built stadiums on Soi Sai Namyen.If you don't mind the violence, a Thai boxing match is worth attending for the pure spectacle and the wild musical accompaniment, the ceremonial beginning of each match, and the frenzied betting around the stadium.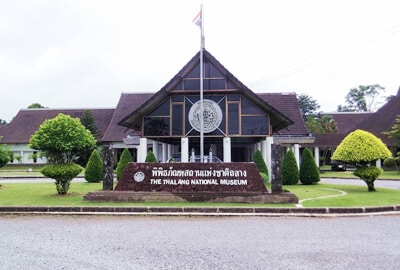 THALANG NATIONAL MUSEUM
This worthwhile museum chronicles Phuket's history, from prehistoric Andaman inhabitants to the tin-mining era, with Thai and English displays. It traces southern Thailand's varied ethnicities and dialects, and recounts the legend of the 'two heroines' (immortalised on the nearby Heroines Monument), who supposedly drove off an 18th-century Burmese invasion by convincing the island's women to dress like men. The prize entrance-hall artefact is a 2.3m-tall 9th-century stone statue of Vishnu, found in Takua Pa in the early 20th century.
TIGER KINGDOM PHUKET
Tiger Kingdom is an opportunity to get up close and personal with several Indochinese tigers of varying ages and sizes that have been raised by hand in captivity since birth. Tiger Kingdom is an attractive, squeaky-clean setup located right next to the Go-Kart track in Kathu at the foot of Patong Hill.It allows you to get into Playing & touching of tigers in enclosure without chains. You can decide what size tiger you would like to visit in its cage, and get memorable pictures clicked by a professional photographer. It is a real treat to play especially with the baby tigers.
SPLASH JUNGLE WATER PARK
Splash Jungle Water Park in Mai Khao Beach is unrivalled in southern Thailand when it comes to wet and wild thrills. A great day out, particularly for children, it is home to 12 exhilarating water slides, rides and attractions, with professional lifeguards on standby to make sure that you have fun and safe time.Located close by Phuket International Airport and a part of the Grand West Sands Villa Phuket.It features exciting slides such as Super Bowl and Boomerango, a Wave Pool, 335 meters long Lazy River, kid's Aqua Play Pool and Aqua Park, a 6-lane Whizzard, Family Raft Ride and (much) more.
PHUKET TRICKEYE MUSEUM
Phuket Trickeye Museum is a great place to take your kids or your friends for a couple of hours of silly fun. If you are not familiar with the concept of Trickeye Museum, also called 3D museum, it's a place where you interact with giant paintings for some fun photo sessions. It's a perfect opportunity to interact with modern installation art as it let you enter the picture which you used to only watch and become a part of the picture yourself. Similar attraction has been hugely popular first in Pattaya, then in Chiang Mai and finally in Bangkok. The 3D Museum in Phuket Town is actually not related the those 3 listed above.
WAT PHRA THONG
Wat Phra Thong (Wat Prathong), near the Thalang District Office, north of Phuket Town is famous for a half-buried golden Buddha statue called Luang Poh Phra Thong (Golden Buddha) in its grounds. Its other moniker is Wat Phra Phud, meaning 'Temple of the protruding Buddha'. It is believed to be one of the island's oldest temples.
PHANG NGA BAY
A distinctive feature of Phang Nga Bay are the sheer limestone karsts that jut vertically out of the emerald-green water. James Bond Island and Koh Panyee are just two of the more famous spots in this bay. By far the best means of enjoying the spectacular scenery, with only brief encounters with the tourist crowds at James Bond and Koh Panyee, is to take one of the boat trips from the northern end of Phuket.